Welcome to your online information resource for those having, or at risk of developing lymphedema. This website is also for the family, friends, and therapists who care for these individuals.
ARE YOU NEW TO LYMPH NOTES?
Begin by reading the news on the home page.

Explore

the many features

available here.
There are over 50 informative articles posted on this site!
To locate the articles of greatest interest to you, click on A Table of Contents. This will cause a list of the articles will appear.
To read an article, just click on it's title.
To locate a specific forum topic, go to the orange bar near the top of the page and click on the heading "Lymph Notes Forums." This will take you to the forum page and you can search there.
To

locate the

definition of a medical term, go to the Lymphedema Glossary.
This heading aids you in searching terms in alphabetical order.
The Rotator Picture in the upper right corner of the home page leads you to an interesting patient story. To read a story, just click a rotator picture title.
To enjoy the next story, click on the next photo link and that story will appear.
HELPFUL BOOKS FROM LYMPH NOTES
Available now Lymphedema and Lipedema Nutrition Guide! Buy Now
from Amazon.com or ask your local bookstore to order ISBN 978-0976480686. E-book is available from Amazon.com (Buy Now
), Apple iBooks store, and other e-book sellers (ISBN 978-0976480693).
Living Well with Lymphedema by A. Ehrlich, MA, A. Harrewijn PT, CLT-LANA, and E. McMahon PhD. "The most comprehensive lymphedema book on the market. It is wonderful for patients and for those at risk. So many sources tell lymphedema patients what they can not do. This book encourages us in what we can do!" For ordering information click here or buy now from Amazon.com
.

Lymphedema Caregiverís Guide is the first book specifically for family, friends, and professionals who provide, or arrange for, lymphedema home care. Written by Mary Kathleen Kearse, PT, CLT-LANA (an experienced and highly qualified lymphedema therapist), Elizabeth McMahon, PhD (a clinical psychologist), and Ann Ehrlich, (a professional medical writer). "This book covers all aspects of lymphedema home care including emotional support." For more information, click on Lymphedema Caregiverís Guide. For ordering information click here or buy now from Amazon.com
.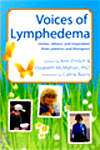 Voices of Lymphedema is an exciting book written by patients, therapists, and others who know lymphedema first hand. As described by one of the many enthusiastic reviewers, "This is a must read book!" For more information and reviews (including those from the National Lymphedema Network (NLN) click here. Buy now from Amazon.com in paperback
or Kindle e-book
format. Voices is also available in other e-book formats including B&N Nook and Apple iBooks.

Overcoming the Emotional Challenges of Lymphedema by Elizabeth McMahon PhD is an "Empowering and practical book, with exercises that the reader can jump right into and know they are taking steps to help themselves. I love the emphasis throughout the book that the patient is in control." For ordering information click here or buy now from Amazon.com
.
SPECIAL RESOURCES
© 2016 by Lymph Notes, all rights reserved. This information does not replace the advice of a physician.
Updated: 2016-04-18
Lymph Notes Forums
Not registered yet? Sign up now!

Members: 63,350, Threads: 781, Posts: 3,450
Our newest member is Rafaelded.
Registered user? Log in here: